Jamey Durbin | Transfer and Account Specialist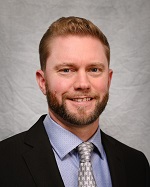 Year Joined: 2012
Years of Professional Experience: 20+
What I love about Retirement Evolutions: Being part of a close-knit team working to put people's minds at ease
Places I've Lived: Lexington, OH & Tucson, AZ
My Hobbies and Passions: Sports (watching/attending), spending time with family, exploring the outdoors
---
Responsiblities
Jamey oversees the essential function of account paperwork for clients. First, he identifies and prepares all necessary transactional paperwork in an industry that loves paperwork. He then follows through with the various tasks of any submittals until the desired outcome is reached. He also ensures the information, accounts and notes in the client database are accurate.
Jamey's Professional Story
Jamey and Jon met during college and have enjoyed a brother-like relationship ever since. Jamey graduated from the University of Arizona in 2000 with an engineering degree. After designing irrigation systems and working in quality control, he operated a landscaping company for 10 years. A diagnosis of melanoma was the catalyst for a change of scenery, and starting in 2012, he grew into a full-time position with Retirement Evolutions. Jamey draws on his analytical mind to ensure new accounts are processed with great attention to detail, his past relationships and life experiences to communicate with clients and his friendships to work together as a company teammate.
Jamey's Personal Story
Jamey grew up in a small town as part of a large extended family in Ohio and moved to Arizona at 11 years old. He played sports year-round through college. If there wasn't a ball involved, then it was a camping tent, snow board, bike or something outdoors. Jamey has an adult daughter who also graduated from the University of Arizona, and a wife with whom he shares a young son. His eight-year battle with cancer causes him to keep life simple in enjoying every day, appreciating life's daily gifts and experiencing as many new and different things as possible.
---
We invite you to come into our office
To schedule a time to discuss your financial future and the possible role of insurance or investments in your financial strategy, contact us at info@retevo.com, or call us at 520-399-6340 today!
By contacting us, you may be offered information regarding the purchase of insurance and investment products.
LISTEN TO JON AND KARYN ON THE RADIO
There are different formulas for launching highly successful companies. First, create a product that solves a problem that no one knew they had — for instance, how online search engines replaced encyclopedias. Then, there are ideas that help solve problems that plague millions of people.
Back pain, for example. Not only do approximately eight in 10 adults experience low-back pain at some point in their lifetime, but it's also the most common cause of job-related disability.
One individual who suffered severe back pain while sitting at work all day decided to invent a new kind of desk. This desk would allow him to stand while he worked, alleviating his back pain. This man was a co-founder of VARIDESK, a new type of office furniture manufacturer. But this new company didn't just enter the office supply industry; it introduced a new sales model that was key to its rampant success: Selling online direct to consumers.
LISTEN