Kenneth Magoch | Legacy Board Member / Retirement Evolutions'** Mt. Rushmore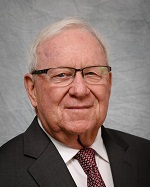 Year Joined: 2006
Years of Professional Experience: "Well Seasoned"
What I love about Retirement Evolutions**: The ongoing growth in the ability to help people accomplish their goals.
Places I've Lived: Milwaukee, WI & Tucson, AZ
My Hobbies and Passions: Golf, house project, and family.
---
Responsibilities
Ken is chartered to make sure at least 95% of his time is available to visit golf courses in the greater Tucson area. If he does have to punch the clock it is to help with some bookkeeping or a special initiative.
My Professional Story
Ken proudly served with the Tucson Police Department for over 30 years as an officer, mentor, and eventual Sargeant. After retiring from the police department Ken stayed active in the leadership of the Fraternal Order of Police for several years but still found himself with time and energy for something else. Jon sensed this and enticed Ken to log some hours in helping Jon's enterprise that was now busier than he could handle by himself. Those "some hours" grew to many hours as Ken flexed his "do it all" muscles and helped his son push through those fragile, formative years of the organization. Ken's hours were steadily reduced as new members joined and in 2015 Ken was ushered out of the office and only to be invited back when honoring the duties of his new title; "Legacy Board Member."
My Personal Story
Ken grew up in Wisconsin and followed a career opportunity in law enforcement to Tucson in the 1960's. He spent the next 3 plus decades serving long hours with the Tucson Police Department and raising his family. After his "first retirement" spent with Retirement Evolutions he now focuses on enjoying non-working flavors of retirement like: travel, golf and spending time with friends and family.
---
We invite you to come into our office
To schedule a time to discuss your financial future and the possible role of insurance or investments in your financial strategy, contact us at info@retevo.com, or call us in Arizona at 520-399-6340 today!
By contacting us you may be offered information regarding the purchase of insurance and investment products.
LISTEN TO JON AND KARYN ON THE RADIO
There are different formulas for launching highly successful companies. First, create a product that solves a problem that no one knew they had — for instance, how online search engines replaced encyclopedias. Then, there are ideas that help solve problems that plague millions of people.
Back pain, for example. Not only do approximately eight in 10 adults experience low-back pain at some point in their lifetime, but it's also the most common cause of job-related disability.
One individual who suffered severe back pain while sitting at work all day decided to invent a new kind of desk. This desk would allow him to stand while he worked, alleviating his back pain. This man was a co-founder of VARIDESK, a new type of office furniture manufacturer. But this new company didn't just enter the office supply industry; it introduced a new sales model that was key to its rampant success: Selling online direct to consumers.
LISTEN