Debbie Conover | Service Administrator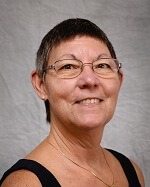 Year Joined: 2016
Years of Professional Experience: 30+
What I love about Retirement Evolutions: Being involved with a dedicated group of people that love to make a difference in their client's world. I enjoy coming in and making an impact and connecting with the clients.
Places I've Lived: 25 years in Cleveland, Sacramento, Tucson since 2005
My Hobbies and Passions: Discovering new places and faces traveling in an RV, being with grandchildren, creating websites, being an event planner, being a Rotarian and giving back.
---
Responsibilities
Debbie spends much of her time assisting the advisors in conducting research and preparing materials for meetings. She is also heavily involved in keeping essential databases and electronic filing stays current.
Debbie's Professional Story
Debbie could technically check the box of "retired", but her personal engine doesn't sit well at idle. Debbie's professional journey includes over 20 years as an owner/operator of an auto repair shop. In her "2nd career" she spent time as an Office Administrator for a financial company, independently prepared corporate and individual taxes, worked as a patient liaison for a home health agency and worked as a coordinator for the Pima Council on Aging. Debbie is a long time friend with Karyn and so when the business was looking for an experienced, part-time set of hands adding her to the team was a natural fit.
Debbie's Personal Story
Debbie grew up in Ohio and then moved to Sacramento where she married her husband Geary in 1984. After moving on from their auto shop business they were drawn to the clear air of Tucson to spend their retirement years. They have 4 children and 4 grandchildren. Summers months are spent traveling in their RV, meeting up with Rotarians from all over the world and making long visits with family. Debbie and Geary have traveled to most destinations on their bucket list; including Ireland, Australia, New Zealand, Germany, Norway, Great Britain, Sweden, Hawaii, Canada, Alaska, and most of the other 50 states.
---
We invite you to come into our office
To schedule a time to discuss your financial future and the possible role of insurance or investments in your financial strategy, contact us at info@retevo.com, or call us at 520-399-6340 today!
By contacting us, you may be offered information regarding the purchase of insurance and investment products.
LISTEN TO JON AND KARYN ON THE RADIO
Financial literacy has always been a challenge. However, now that much of the burden of retirement income has shifted to employees instead of employers, it is all the more important that we begin teaching the principles of saving and investing to people as early as possible.
LISTEN