Attend a dinner event to learn more about a retirement planning strategy that builds confidence in having a plan for your future.
About Our Events
At Retirement Evolutions, we hold informational events for our clients and the greater community that feature information on specific topics, such as retirement income strategies and wealth management. Often, our events include guest speakers and special activities, as well as take-home materials. We strive to keep you up to date on issues that matter to you, your family and your financial well-being. Whenever you attend events feel free to schedule a one-on-one, no-obligation meeting.
The stock market went through a recent period of strong volatility, the first one in a while, reminding us that your nest egg may be vulnerable to losing some portion of its value. Jon is joined by Karyn Damschen, the insurance specialist at Retirement Evolutions, to talk about ways to get back on track and stay there when the market goes haywire.
Listen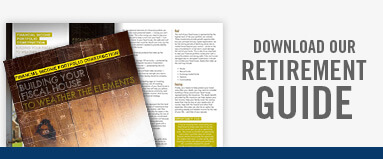 Get the blueprints for building a strong financial house!
Before you start construction on building a durable financial portfolio, start by getting the facts.
Enter your information below, and we'll give you instant access to your copy of "Building Your Fiscal House to Weather the Elements," a short guide that covers the various components of a sturdy financial strategy.