It's one thing to save for retirement, but another thing altogether to make sure it gives you maximum impact. Today Jon talks about how money properly placed in a portfolio can help with not only income but also cover inflation, taxes, volatility and other factors that can make your retirement less enjoyable.
Take a Listen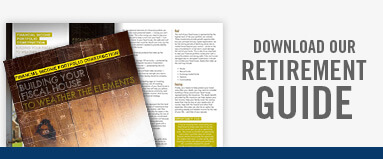 Get the blueprints for building a strong financial house!
Before you start construction on building a durable financial portfolio, start by getting the facts.
Enter your information below, and we'll give you instant access to your copy of "Building Your Fiscal House to Weather the Elements," a short guide that covers the various components of a sturdy financial strategy.