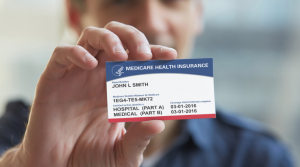 Between April 2018 and April 2019, The Centers for Medicare & Medicaid Services will be removing Social Security numbers from Medicare cards and mailing each person a new card. This will help keep your information more secure and help protect your identity. You'll get a new Medicare Number that's unique to you, and it will only be used for your Medicare coverage. The new card won't change your coverage or benefits.
For more information about all things Medicare head over to our Medicare Services page.
---
Here are 10 things you should know about this new card rollout:
Mailing takes time: Your card may arrive earlier or later than your friend's or neighbor's, this is not cause for alarm.
Destroy your old Medicare card: Once you get your new Medicare card, destroy your old Medicare card and start using your new card right away.
 Protect your card information: Only give your new Medicare Number to doctors, pharmacists, other healthcare providers, your insurers, or people you trust to work with Medicare on your behalf.
You have a new unique number: Your card has a new number instead of your Social Security Number. This new number is unique to you.
Your new card is paper: Paper cards are easier for many providers to use and copy, and they save taxpayers a lot of money. Plus, you can print your own replacement card if you need one!
Keep your new card with you: Carry your new card and show it to your health care providers when you need care.
 Your doctor knows it's coming: Doctors, other health care facilities and providers will ask for your new Medicare card when you need care.
You can look up number: If you forget your new card, you, your doctor or other health care provider may be able to look up your Medicare Number online.
Keep your Medicare Advantage Card: If you're in a Medicare Advantage Plan (like an HMO or PPO), your Medicare Advantage Plan ID card is your main card for Medicare – you should still keep and use it whenever you need care. However, you also may be asked to show your new Medicare card, so you should carry this card too.
Help is available: You'll get more information from Medicare when your new card is mailed, but if you have questions or you don't get your new Medicare card by April 2019, call 1-800-MEDICARE (1-800-633-4227). TTY users can call 1-877-486-2048.As always, we here at Retirement Evolutions are here if you have any questions as well, don't hesitate to reach out.
---
Information provided is excerpted from medicare.gov. 
Neither the Company nor its agents or representatives may give tax, legal or accounting advice. Individuals should consult with a professional specializing in these areas regarding the applicability of this information to their situations.
By calling Retirement Evolutions at 520-399-6340, I understand that I will be directed to a licensed insurance broker.  
Retirement Evolutions and its employees do not represent, nor are they affiliated with or employed by, the Centers for Medicare and Medicaid or any official government agency. You may reach CMS at 800-633-4227 (TTY users should call 877-486-2048) 24 hours a day / 7 days a week.
By submitting your information, you agree that a licensed Medicare sales representative may contact you about Medicare Supplement, Medicare Advantage or Part D (Prescription Drug) plans. Data use charges and rates from your cellular carrier may apply.